The year begins
Peacefully enough
DH and I stand together on the patio of our cabin to welcome the new year where the snow covered mountain makes you feel like you are all alone in the world ( though in a nice way )
DH smokes a cigar
The tall trees that surround us sway so much that I wonder aloud how they dont fall
DH explains that the roots are really deep and that they are meant to be able to sway
"
Without sway they would break"
And I think of how true this is of life as well
My floortime goals of 30 minutes daily
Except for 2-3 days where R and I were really sick - ( he has had something or the other sort of off with him since the past month ) we have floortimed every single day
I think the "just 30 minute" goal of doing Floortime - is pure genius
Concidentally R has reached the level where he is suddenly throwing the metaphorical ball of communication back
I am remembering to use a lot of affect - facial expression and joy
And when I remember to do Floortime
first
before the chores/routine take over - R is craving the engagement and seeking me out to Floortime some more !!!
This has not happened before
Though R has always loved to be with me - he has typically been more interested in cuddling and snuggling and I have to really work at getting the back and forth engagment cooking
he is just so much fun to play with right now
He will initiate play using props - here he is a witch on Halloween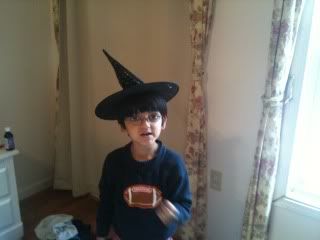 I cannot figure out the reason -
Is R more ready ?( this is what DH tells me - perhaps to comfort - when I lament that I should have been doing this all along and how much time have I wasted )
Is it that school has been off for so many days ( owing to snow )? For he no longer likes school :-(
Is it that I am using so much affect ?
I dont know the reason but its delightful
The snow
The South has been having so much snow this year - The snow has been a joy and a pain
We have made up our mind to just give in and enjoy it
R has sledded for the first time - he loves to lie in the sled - Mother Nature provides an amazing sensory diet
He is developing some very typical responses
DH orders the Happy Monster Band - toys from Ebay and we tell him he has a gift from Santa
When he sees what is in the bag you shoould see the great expression of glee
Sometimes it truly feels like we enjoying R's childhood in slow motion
Work
Is unusually intense right now and I am so busy which is taking some of the joy away
Plus I am having to travel a lot which always causes me a lot of stress
Hopefully the pressure will ease in a little while
And yet there are so many moments of pure joy that I find myself saying a prayer of thankfulness many times each day
The plane landing delayed last night and knowing that DH was waiting for me at the airport and I would not be driving over the ice alone
His dear familiar smile and pious declaration of "W
ho works for you from morning to night
"( for he has woken at 6 to drop me to the airport)
The charming way in which R runs to me demanding-
"Love and hug"
Walking in the snow - on the mountain. Where no one but DH with snow chains on our tires - has dared to drive. And watching the sun turn the snow into diamonds
All the playing we do in the snow
I draw a big heart in the snow
I label it "
Mom's heart"
while R watches carefully
"Do you know what is inside Mama's heart
" I ask, finger poised to write on the inside of the drawing
"
R
" says my son