Saturday and Sunday
Saturday morning is a FRENZY of cooking
I promise to post the recipes soon
At noon
My friend and her fiancee and her two dogs come for the pampering weekend.
She loves everything.
She seems so relaxed after the spa time that every penny feels well spend. One of her bridesmaids has created some drama and gone out of the wedding and and I am so thrilled to see the worry lines leave my friend's eyes
I am also a little guilty as I feel I am neglecting R. I find I can no longer socialize for days ( an evening away from R is about as much as I can handle and that too rarely ) without guilt
The dogs are adorable and follow me everywhere hoping for scraps of food.( their hopes are well justified as they are good judges of a softie- I justify giving them people-food by making sure wverything is whole grain and organic )
Their cold dark noses pressed to my behind pretty much the whole weekend
Unfortunately R is allergic to dander( and since he also follows me everywhere along with the dogs he is getting exposed to it a lot ) and falls sick.
Sunday we go out to a fancyinsh restaurant and have a blast
-
R stays home with one of his therapists who also acts as a babysitter.
What we dont know is that today is a big fireworks show in Downtown.
So dinner is a little delayed but yummy
And then the parking lot is jammed - it takes us an hour to get out of the parking garage .
I text and let the babysitter know but I am torn with guilt
Its 11.30 by the time we reach home and we find R waiting by the window. He sulkily goes to the computer as I am talking to the babysitter instead of fawning over him.
I guiltily tip the therapist extra though she repeatedly says its fine -
Monday
Is a holiday
As soon as they leave on Monday we leave for the airport .
Why the airport ? Nobody is going anywhere . There is a story there.
Last Wednesday_ when R and DH had come to pick me up from the airport -
R had been bereft that we did not stop at the airport.
First he loves the airport -
Second he feels we have breached our contract.
What DH said to him was this -
we will go to the airport and pick up Mama
R had an expectation that he would be visiting the airport as in go inside coo at the luggage carousel, ride the escalator etc
He has been carrying this hurt and betrayal with him all week
Last night he is tired and hungry and has a meltdown he keeps crying
Biituh bittuh
I tell him that nhe needs to help me understand and not cry. I take him to the computer and open Word and type in "What does R want?"
Weeping he types in BIGJET( this is what we tell him when we go to the airport )
I realize that this is a big deal for him and tell DH that we must go to the airport as soon as we can.
The trouble with a kid who remembers everything is that .. well they remember everything
R is thrilled when we reach the ariport.
But the trouble is that he also wants to take the flight. I show him the sign that says "
ticketed passengers only beyond this point"
and ask him where our ticket is ?
He is nonplussed at this and resignedly turns back towards the parking garage
We go Go Karting which I enjoy almost more than him
(R's allergies are still bothering him )
Back home to a frenzy of vaccuming and washing everything that the dogs touched to get rid of all the dander
Tuesday
I and DH have our date lunch .
While I am burning with resolve to get back on my diet - we have a free desert coupon.
And they have Hazelnut Chocolate Mousse on the menu - this is the trimvurate of temptation for me.
DH reassures that mousse is "all air" and therefore practically fat free. I eat a little of it !
DH leaves for golf in the evening - I really love it when he gets guy time as being a full time Dad or mum can become very lonely
In the evening we( R and I, not DH and I ) loll around with the Backyardigans plush toys and he also makes me say all the character intros of the Little Einstein and also do the Wii together
When his therapist comes - I take some Dal Makhani and cheesecake - to my friend I found online who lives quite close now
I and L kept planning to meet like I and Miranda have been - But its taken her moving across one street for us to actually visit. Hopefully Miranda will also move into my neighborhood!
I am soooo touched to see that she has made a gift for R !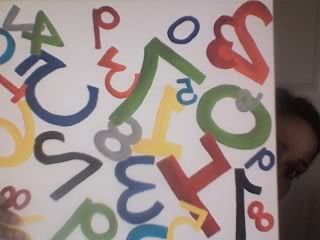 I am so lucky in my friends( touchwood )
I play with her daughters for a bit-
And then its time for our evening routine - R is charmed by his painting and I tell him who gave it to him - later on when I ask him who gave it to me he says
Khas Bub
( C's mum )
Wednesday
One of my work friends takees me out for Sushi.( as its my birthday next week )
I am a pillar of virtue today - I eat sushi and only sushi
After sushi when she takes me to a cupcake store - I do not eat a cupcake but get one called Chocolate Tuxedo for DH for the evening
I have left Chicken Chili ( indian style chinese food ) for DH.
I tell him over the phone about what I have left him for lunch. I also tell him about my meal planning strategy. If he must eat without me -I leave him meat and potato type things . This is to compensate for my absence.
When we are eating together I make healthy things as I no longer am compensating for anything
"So",
I conclude to him"
its either meat or me, what do you prefer
?"
"Meat "
says DH and then completes "
ing you"
( meeting you)
Of such nonsense are happy marriages made
In the evening R and I do - what I mentioned in my last post