I am typing this post on aboard the Disney wonder waching the Bahamas retreat into the distance
( well if that does not sound like the beginning of a story book I don't know what does )

Here is a little of summary of what we did

Thursday
We set sail from Cape Canaveral .

We have had to stay for a night at the Residence Inn – a hotel that R really likes as they have good internet service – plus ample space

Also we are able to cater to his very specific taste profile ( by bringing food from home ) as they have a kitchen
We go the ship-
Ours is called the Disney Wonder - and a wonder it is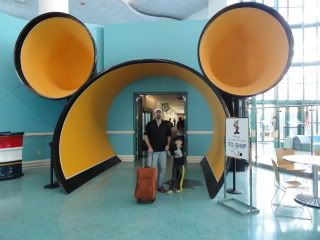 Our room is quite adorable and has a nice double bathroom and a private balcony
This little balcony that looks out into the ocean may be my favorite part of the ship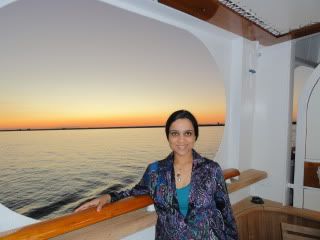 All three of us spend time on the balcony - R spends a lot of time standing at the edge and looking down ( while we keep an eagle eye on him - afraid that he will fall down )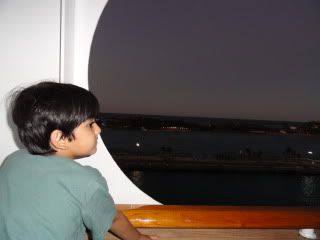 There is a party on the deck as a send off to Bahamas and all the characters come and do a lovely dance
R sits atop DH's shoulders and has a good time
.
R dances too

But he is quite alarmed when we pull way and keeps asking for the hotel ( Residence Inn ) .
"All done Ship hotel
" he mewls
We go and watch a show and I think of how much I love Disney when I see that they actually have sign lanuage on the side ( see in the picture and they do a FANTASTIC job ) for the hearing impaired and all their public TV's have the captioning on
This is a main reason why we spend so many dollars on Disney - becasue they go out of the way to welcome people of all kinds- especially people with disabilities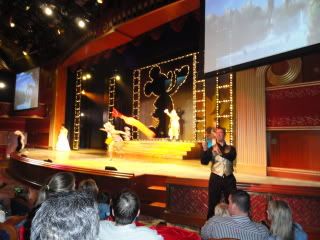 When we return to our room we find the room has had a lovely turn down service and the host has actually shaped a towel in the shape of an animal
Can you see the monkey hanging from the side ?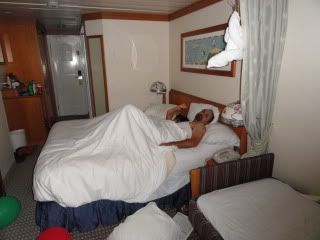 Friday
R has slept very poorly last night and so have we

DH is a doll and brings me break fast in bed

I am very excited this morning as we are going to be playing with Dolphins on the Blue Lagoon Island of Nassau

I simply ADORE dolphins
Was there a lovelier creature ?

We stand in line waiting for this great adventure - But R is sooooo reluctant to go and keeps whining that he is done with the ship .

My heart sinks as we have spend all this money and time for a vacation that he will enjoy and it suddenly seems like a waste .

( AND we have 10 more days to go – suddenly I think of how much easier it would have been to just spend some days at the cabin ).

I can feel my heart in my feet
And then I remind myself of how important it is to widen his experiences ( for this is one of the major factors that compounds autism as a disability – parents of auties get discouraged when their children don't enjoy new experiences . And this is compounding problem as their children's worlds shrink smaller and smaller as they try fewer and fewer new things.

While if they had persisted in trying – they would be so much better off in the future. For the children were not objecting to the activities but just to the newness )

Still this must be the one thing that I miss about the NT experience – the desire to explore- while R needs to be forced to explore and my eyes fill with tears

Just as a signal from above – two loud and whiny ( and NT ) kids throw a huge tantrum – their mother and their father look around embaressed . But I smile at them gratefully for they have reminded me that I am getting into the familiar autie mum trap of imagining that all is perfect in the NT world

Then another sign!

Two parents walk in with a severely disabled child in a wheel chair. The little girls eyes are closed and her hands are folded across her chest

I look at the mother gratefully - for her courage has inspired me.

If she can take a child whose eyes are closed to look at dolphins - surely I can take a child who merely wants to shut his eyes to this new expereince

We make our way in the boat

Once we reach the island and get to the alcove to play with the dolphins – R is PETRIFIED .

As I can clearly see that he is not enjoying himself – I tell him to go with DH ( that was a well spent 120 dollars for his ticket to play with dolphins)

R thinks that I am in mortal danger


From his perspective the dolphin is making squealing sounds and cavorting in the water

This is the dolphin "singing and dancing"

Yet to R – it appears that the dolphin is making a battle cry prior to eating me his mother
I get loads of dolphin hugs and kisses .
As R sees the hugs, he suddenly realises that the dolphin is being good to me.

The dolphin hugs like R – putting all his weight on me

He kisses like R too – just putting his mouth on mine but not puckering

Gosh how I enjoy this

When DH asks me if the encouter was worth it – I tease that Sean's kisses are the best kisses ever

DH teases R that his mother now loves Sean because he is so nice and fun and now I will be with Sean

R looks away unhappily

But I find later that he takes his own preventative measures by throwing my bathing suit from our balcony into the ocean

DH speculates that he probably did this in as an act of jealousy

If I cannot wear a bathing suit - I will no longer be able to be in the ocean and spend time with Sean the dolphin

While I am really sad about the loss of the bathing suit – I am also very proud of R as this is planning at its finest

He is a very posessive child and the next day when two girls ask me to look at a castle they have made and I coo over the castle obligingly - I find that later after we all have moved away - he has kicked the castle down

If he was NT, I probably would be angry - but as I am an autie mom - I am very proud of his excellent problem solving

Saturday
We reach Castaway Cay – the other Bahamas island on this cruise
This island is owned by Disney and its really beautiful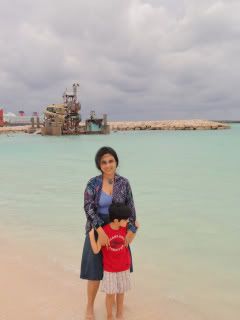 R is crazy for the ocean and gets into the water even though the water is FREEZING
DH has a nice barbecue in the ocean - though a gale starts
There are so many fish in this ocean
We have a simply lovely time in Castaway Cay
R loves going out the dinner and the fuss the dining crew make over him - cutting his pizza - filling his sprite glass.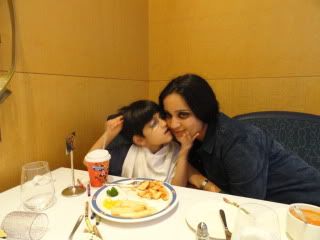 He loves how a water glass has his name on it ( Disney service is better than anything I have seen )
DH has brought a bottle of champagne as I have said that drinking wine on our own balcony is one of my "iconic moments"
We drink Champagne and watch the ship glide over the gorgeous ocean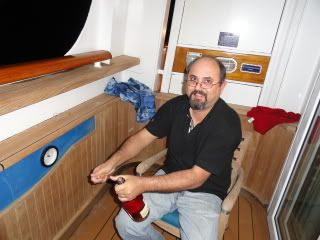 Sometimes we toast the fun we have had and how
happy
we are
And some other times, like today - we celebrate our
courage
in trying out new things - even when things don't turn out perfectly
There are people who think of life as an adventure to be explored and there are people who think the world is a place to protect yourself from
And I know what we would rather be