Friday
Our alarm clock goes off at 6 - DH usually wakes up first and then he tries to rouse me and R ( who has jumped into our bed sometime in the night)
We wake up grumbling - R & I - we are NOT morning people( DH is sunny and cheerful though )
DH hugs R ( too tighly ) who rolls over and puts his arms around me, whining reflectively
"
Mama hug, Papa Hurt"
Oh how I love declarative language !
Saturday
This is on strange weekend as we do not go to the cabin owing to a hectic social weekend in the city
2 parties !!!
In the afternoon there is the ASA party
R is currently being taught piano by a lovely lady who has Autism herself and she has set up a talent show in which she insists R takes part
The Auties put up a great show !!
R and she play Christmas music ( she is practically guiding his fingers as he is very blase about being on stage and just wants to go home- but he does look adorable )
She has asked us to come 2 hours early and the party is too long for R
Also, I think this year he is really getting the whole idea of Santa.
Mall Santa and the Santa at the ASA party are rather
tame
compared to the Santa Claus we are reading about at home - with reindeer drawn sleighs that come from the sky and elves etc
Seeing Mall /Party Santa from his eyes -
I totally see his point !
Though ASA party Santa does try his best and does a rather convincing Ho Ho Ho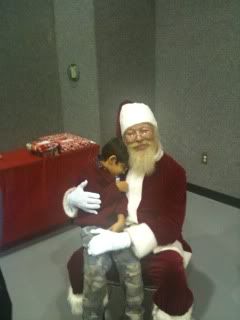 Are your kids disappointed by real life Santa - or do they consider him to be the real deal ?
In the evening, DH and I go for our Christmas party
As we want to take our Christmas card pictures as well - we wear dazzling clothes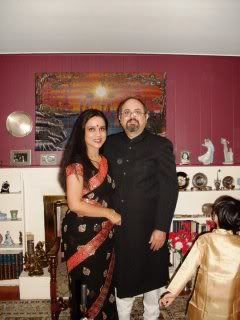 R takes one look at me and squeals "
Queen"
Was there ever a better compliment?
(Well actually there is - DH used to call me his "doe-eyed lovely".
This loses something in translation - the Hindi word -
Mriganayani
-is far more charming . The delight I got from that compliment has been somewhat tempered by DH's enthusiasm for Venision.!!! )
R has an evening being babysat by his therapist and they go to Mcdonalds for dinner where he tells her when he goes to the bathroom "
its too noisy in here
" ( Did you notice? A full sentence !!!! )
He is petrified of the automatic flushes and the hand dryers )
When we return, he and S and snuggled up in bed watching Word World and its clear that he has not missed us at all
Sunday
My beloved friend L lives close by .
We met online and R and C go to the same class( what a coincidence !!)
We have a play date
Which like Autie play dates go- comprises me and L chatting and eating lunch while the kids all do their own thing
We have a lovely lovely time chatting about all the things Autie mums chat about - therapies, money , schedules, progress .
And how we have the best kids in the world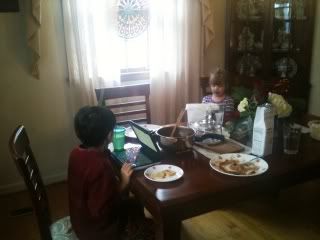 In the past couple of months , R has seemed worried about C lately.
He often wakes up crying in the morning saying
"
C is sad.. C is crying "
As C has always looked perfectly happy to us - this has been a puzzle
But I have been trying to help him be okay with his sorrow by pretend playing with The Little people characters
I call the blond girl- C and the brown boy - R .
We then do a little play where C says "
I am sad' ,
R says "
its okay
" C says " I
feel much better now "
This is a great comfort to R
Imagine my surprise, my friend tells me that C has actually not been feeling well for the past few months ( she is fine now ) and so she really had been feeling sad for a few months
So R's worry was not unfounded after all
Monday
It is bitterly cold .
Dh and I drink ginger tea and watch Law and Order , LA lazily ( not bad , but not a patch on the original )
R jumps right in front of DH
When DH tells him to move and not dance, R does the FUNNIEST thing
He does a full out jig chanting "
Am I dancing?" Are you dancing
?"
DH and I are in splits
Somedays, the live entertainment in our house is better than what's on TV
In order to not spend the entire evening like slugs - we go to the Mall( our mall is just 5 minutes away ) and ride the train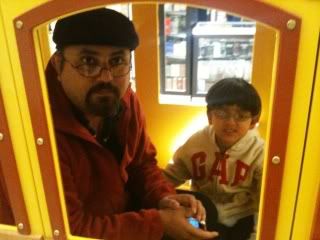 And play in the little play area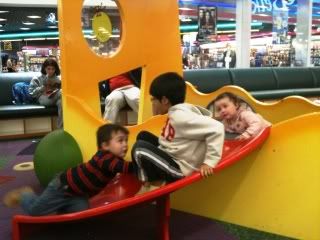 Its interesting to see how much R coexists peacefully with neurotypical kids without showing any desire to interact
Tuesday
While DH has taken R to OT , I quickly get some exercise
DH and I have a tea ritual every evening
Nowadays I am noticing that R tries to participate in the ritual too by bringing his own DVD or book and drink and asking for a cookie
So today I surprise him by arranging his snack and drink on the tray right along with ours
Oh how satisfied and smug he looks when he sees the tray on returning!
He is now a bonafide member of the tea ritual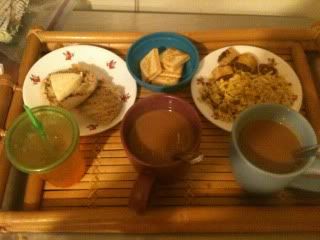 Wednesday
I am very sad in the evening as I have to leave for a work trip tomorrow
Its only two days though
R always senses when I leave and is anxious and teary
So now - I write down a full schedule - exactly when I will leave and when I will come back .
And this really helps him ( though he wakes up at 1 and will not go back to sleep and so neither do I which especially is awful as I have a 15 hour work day ahead of me )
I put some flowers in my cofffee mug to cheer myself up - so I have something lovely to look at when I wake up in the morning and make my tea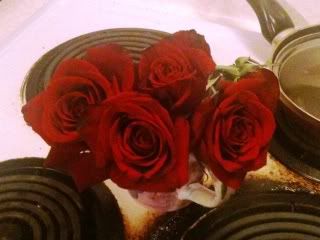 I read his book and put him to bed thinking of the day I will miss with my two special people
He drifts to sleep with his sooooo long eyelashes sitting on those round cheeks
"
Do you know how happy I am to be your mother
?" I ask
"
Yes
" says R