Dear readers
Those of you who have been reading this blog for a while - know that my favorite place in the world is this cabin in the woods in Fall.
We spend 8 days there ( with a few days before in Boca Raton owing to a conference)
I wrote a little down each night in bed- so that it would be fresh in our mind
Boca Raton, FL - Wednesday - Thursday
We started our vacation in Fort Lauderdale as I had a conference there.
We are staying in fancy place ( not at all our kind of place) and they have a lot of super annoying things like valet parking . This means you have to tip the Valet each time you take your car in an out. ( the card clearly states that the $30 daily parking fee does not include a tip for your valet)
Boca Raton is full of old rich people. I think a comedian called it "God's waiting room"
Many strip malls have signs like this
DH told me that there was no way that I was going to be able to stay off email and work and that he did not expect me to as that is just who I was
This shook me up as I DO NOT want to be that crappy sort of person and so I determined to unplug and take whatever consequences came.
So just before flying from Fort Lauderdale on the way out of the conference we try to get into the vacation mindset with a stop to gaze at the Atlantic
The beach is empty except for some people who are very drunk - they have a tent that R with his terrible lack of judgment - is desperate to get into.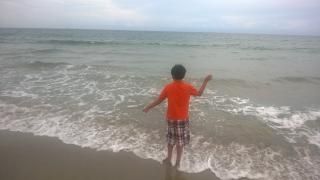 R really enjoys the water.
Thursday, back in the room of happiness
You should never return to a place after a year when its dark.
I always know that and yet that is the time we chose to come back to Knoxville
It was a funny feeling
I remembered so many things from the past - like when we passed the Big lots where I bought a Little people Carnival set ( that R would not play much with - but I enjoyed it so much)
All those joyful memories make me sad.
I am envious of my past and yet I know that I can never go back. Most of all, I envy the mother I had the time to me, which alas I am not anymore.
We stop for groceries on the way- R insists he stay in the car.
When we get back he is crying and said he is "scared and upset".
Maybe he feels the bitter sweet nostalgia.
As we make our way up the winding steep road to the cabin and the red yellow leaves begin, I start to feel better and better.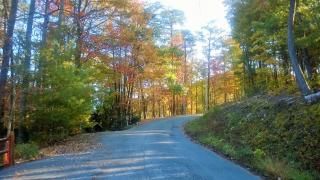 When we get to the cabin it is pitch dark -
I open the door and step into an ocean of pine fragrance.
It is a long time before I am able to go upstairs to shower and get into bed and write this down.
I had many things to do - find two fans for R - make a stir fry for dinner - put a load of laundry away.
But all my half finished projects have left my mind
Work and my busy life is far away in the other end of America
And I am here.
In the room of happiness.
Friday
Is the day of the three musketeers.That is D, K and me
We all meet at a restaurant called Crus- SO much fun - we all like each other's spouses as well
D works on my health care products which have so many funny stories .
Example Anal itch creme - which in a presentation had the statement that causes of Anal Itch are "t
oo much hygiene or too little " .
We just laugh and laugh and its like we have never been apart .
We talked about all sorts of rubbish topics and were as adolescent as can be.
R is with Miss S and had a nice time at the Mall eating Sbarro and riding the elevator

Saturday
First real lazy day in months
Woke up at 8.30 with coffee and in a tangled heap of arms and legs that is R, DH and me
R goes downstairs and gets his own meal which is half a Subway Sandwich ( Oven Roasted Chicken) - that he saves from lunch
I go for a back breaking walk. Thanks to the trainer- I am able to do this without actually thinking I was going to pass out
Fall is AMAZING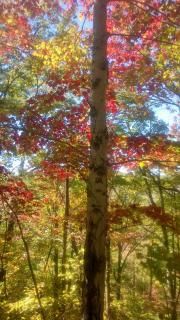 Watched 8 episodes on Californicaton ( and I am not embarrassed to admit that )
Shopped at the mall
DH's birthday is tomorrow and I really don't know what to give him - as he really does not want anything
So I put some cash in a card ( its an old joke and is not as tacky as it sounds ) and give it him with all of his favorite chocolate.
R has also purchased many gaudy gifts - a helium balloon , a card that says simply "Happy Birthday Dad"( which possible appeals to his literal mind) . I ask him to write a personal note which this birthday is simply "How are you? I am 9 years old." ( On Father's day the personal note was "Papa has a beard" so this is a definite improvement !)
Sunday
Since we never have a birthday for DH without some form of pork - we drive down to Knoxville to eat at Bravo's which has the best Pork chops in the world.
R goes off with Miss Kristen- she takes him to the Fall Festival and DH and I while away the afternoon just chatting with some old friends. Oh how pleasant this is.
Their adopted daughter has weirdly started to look just like her mom- my friend (kid has brown skin). I tell my friend that its as though she slept with a brown man to make this lovely child :-).
At the restaurant DH enjoys his chops while I eat my salad virtuously - then guiltily eat a few bites of his Tira Misu ( this will earn me a scolding from the dietician later as I write a food diary which she reads online ).
But goodness its DELICIOUS.
R returns with Miss Kristen and he can scarcely bear to leave her- he has loved the Fall Festival so much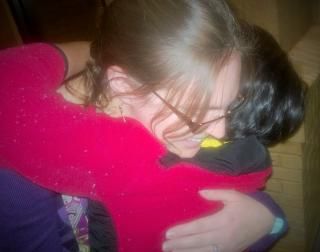 Monday
We go to our house which has still not sold.
Last year when we were here - R was totally freaked out by returning to our old house and would not go in.
But this time he just cheerfully says " There is no furniture in 7728 Luxmore Drive" and waltzes right in.
He playes in the backyard and it makes me tear up again.
I have watched him play on those very toys so many times over the years. So many happy memories of DH building the treehouse of hunting down a slide that would also fit me large rear .
The market is bad and no one wants this old house - but how precious it is to me. Every room echoes with the smiles and laughter and tears of time gone by
DH and I do boring things like - buy replacement stuff for the cabin.( I tell you -put something on market for a weekend rental and be prepared for endless breakage and repair.)
R is off with the magic Miss G.
We meet Miss T- who taught R to talk and her new baby
Its too dark to walk and DH tells me sternly that while I may think that I am "of the forest"- the bears may make me permanently a part of it by eating me alive.
Tuesday
I tell DH that I want a day to just stare at the trees today I do just that.
R and I lounge around the wrap around deck all morning.
My diet lady has emailed me a lecture - she has been watching my online diary and I have cheated a little .
This( lecture) was good and today I was strictly on diet
Today Miss G had a migraine and can not come to play with R which means we had to play with him.
He is very bored with us -he suddenly bursts into tears - so we put him in the hot tub
R has become quite mischievous - his main objective is to not get caught.
So he simply tries to make sure that you back has turned so he can let loose a crime spree of epic proportions
I know for a fact that he has played with my make up today as he had eyeliner on his lips and my Yves st Laurent blush is empty.
It is still lying upturned on the floor.
He usually never clears up the crime scene .
He is eating a LOT of sugar and becoming a chubby which is very cute - but his ears are cracking and he had a nose bleed.
Why is he such a wreck physically ?
We watch a lot of TV - then we go down to town( Sevierville) and get DH some pork chops for dinner which he ate with joy while I eat my egg whites and salad.
He downed it all off with whisky and chocolate while I have a few grapes.
And there he is lying down - expressing his angry views on the Indian PM to his admiring Facebook fans, looking with his long thin legs and here I am writing in my diary with a big fat roll on my tummy on my lap!!
This diet is hard on vacation !!!
Wednesday : A hectic day
Bush's baked beans
Today I meet an old friend who drive down from ATL.
She is so fantastic and though we have not met for 2 years - its like we were never apart- we drink jasmine tea, Hot and sour soup(we shriek in unison that the server should take the fried won tons away) and a super healthy lunch (Buddha vegetables/ no rice ) and then fight over the bill ( as in each of us wants to pay it).
R spend the afternoon with Miss G - who is suffering terribly from migraines -
I just think of how much suffering is inflicted on innocent souls like R, my SIL and Miss G and it makes my heart ache.
I go to Bush where I got a King's welcome - everyone tells me that I should just come back and that in 2 years surely I should have seen the error of my ways. I love this company
Miss Lucy
I hang out with Miss Lucy-as soon as I see her- I knew something is wrong.
When I ask- she had had a book club that morning that no-one showed up to. I was super angry on her behalf and she cheered up somewhat. I think people can be very inconsiderate.
We pulled the house off the market
It has not sold in 2 years and we are EXHAUSTED with reading people's reviews saying its too big/too odd/too old.
I cannot believe that people are coming to look at a 180 K house with 3000 square feet- 5 bedrooms and 4 baths and a huge half acre backyard and expecting so much .
We are putting it on rent and even if it does not rent - I am just glad that its off the market.
I just don't want any more people walking through our beloved home making nasty comments( really - its just appalling how rude people can be - if a house does not fit your needs - just say that) .
I see the realtor pull up the sign and it feels SO right you know?
I feel the house sigh with relief and say thank you
I stand proudly in front of the house that DH and I have fully paid off, all with our hard saved money
R runs to the backyard and played in the swings that he played in from when he was 3 and I felt tears come to my eyes at the rightness of everything
Thursday : The last day
Normally I ruin the last day of vacation by mourning the end .
But- as I wake up looking at the Fall which is still in full bloom outside the window in the room of happiness- I realise that this time I don't.
Its been SUCH a satisfying week-like eating a really really lovely meal and feeling replete and not like you need to eat any more .
Its also made me think of just how unsatisfactory almost all our vacations are, as R hates new places.
The lack of structure makes him feel bored and there is the endless worry about food and worse drink.
Mrs G is here - she is super sincere and I have told her how worried we are that in the new system there is no structured way to teach fiction and play.
She has taken R to McKay's - a treasure trove of second hand books and kind of a landmark of Knoxville.and they have brought a whole series of books - the Magic School Bus as well as the Arthur Series
She has driven all the way to the cabin - (I am so touched by this- especially since she acts like this is nothing) - as she thinks that R and she need a quiet place to read.
DH and I take one very long walk and I am delighted to see that he is huffing and puffing as well.( he is very superior about his running abilities and when we are walking frequently asks me if I am "deflated" Hindi word for which there is no English equivalent.)
At every turn of the road there is more stunning view. Its like the forest is saying "So you like yellow green.. wait till you see the orange red I have in store for you. See the pictures below to see what I mean .
R and DH lounge about in the hot tub ( R loves all these sensory pleasures)
R wants a quick set of pictures of the signs around the cabin and we take some last few pictures.
We wait for the sun to go down to do all our chores .
DH and I have resolved to come again next year if we can.
But for now we say good bye to the beloved forest.
Until we meet again