As if to compensate for an unusually dreary grey winter, we have been blessed with the most beautiful Spring
Riot of color everywhere
How many shades of pink are there?
This
This
And these
In the cabin , the newborn forest is a beautiful color that R calls yellow-green
As spring will turn into summer the forest color deepens but now its this color
The lovely thing about the forest foliage is that it changes the color of the light
I have been so enjoying my walks lately ( though R seems to have developed some separation anxiety once again and I sometimes find him not wanting me to go )
Outside Time
When I run out of ideas with what to do with R - we just spend some time outside in mother Nature's sensory playground
Picnics are his special thing right now and we are taking this chance to make him pack the picnic basket , decide activities plan where to go etc
We try to get him to make lists of what he would like to do
We go for lots of walks
We go to the parks
Social Thinking
Since DH has been to the Michelle Garcia conference, it has really come to focus for how we need to teach R to pay attention to our thoughts
Here is R sulking ..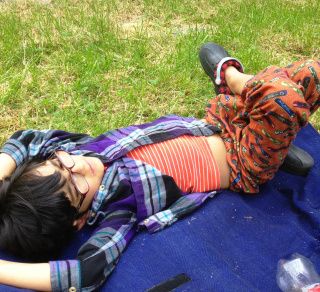 I think we screwed up his picnic- because DH wanted him to answer some questions
R loves to interact but
completely on his own terms
For instance, if you ask him question he will be silent Then he will try to distract you with a repetitive game like this -
R:
Cabin go higher higher
Then I have to say( complete with hand actions ) :
Higher higher up higher higher up and down
( replace cabin with other things and go on like this ad nauseum )
Plus I knew he wanted Doritos - but because he did not pack them in the bag- I did not remind him
The point is to make him more responsible for himself
R sees the world completely from his own perspective( he is not selfish at all- if anything he is incredibly kind and cannot bear anyone being sad - just he is not interested in anything that is not interesting to him )
DH has been working on this by simply asking this question
"What is Papa looking at ?"
This is a difficult question for him as he rarely pays attention to what we are paying attention to
Yet I do think he has the
ability
to think from other's perspective
For instance, he used to always set up furniture to steal candy .. but he would leave it there . Leaving proof of the crime
Now I see that he drags the furniture back :-)
Stretching Interests
I have been using the Floortime technique of stretching interests ( like if he wants to go to walmart - I get him to pay attention to everything - our navigation system , what we see around us, the row number of where we parked, locking the car, etc ) These R-preferred activities are where he really has an openness of mind .
In these preferred activities - he will answer questions in a functionally ( he could not do this a while ago so we are very grateful for this )
But if its not on his agenda he will not answer the simplest question !
And he will sulk if we try to make him
With his therapists, he is much better
They are working with him on word associations and some of his association are really interesting and are giving us a peek of his very interesting thoughts )
Mrs G is even teaching him to play games - for example one of her games is that she will choose two cards - one card is an alphabet, while the other is the task to do. The other day she chose "H" and "Name a means of transportation"
Guess what he came out with
Not helicopter
But "Hang Glider"
He has also started getting interested in other topics like time, Seasons and weather.
( for some reason he belives that DH controls the weather and is very furious and does his angry dervish dance - when DH does not make the clouds go away )
Autism Awareness
This is the month of autism awareness.
I have mixed feelings about autism awareness .
On the one hand - you cannot deny how wonderful it is when a bunch of cafegoer defend a family with an autistic child that are in a restaurant and surely that is a result of awareness
On the other hand, I am very tired of hearing how much autistic children "cost"... the word "burden" that comes up constantly...
While I do not deny the difficulty that autism brings to life - I also know that life can be very beautiful with autism in it
I worry that with what is being written about autism in the media - when a parent hears the word "autism" for their child- the imagine a child with a blighted life that will also blight theirs
I wish I could tell them about the amount a love and joy that an autistic child can give you
I wish I could remove the images of a child rocking sadly in a corner and replace it with an image like this
The other day I took a walk while he was with his therapist. She left the door open and a little later he followed me on the path that he and I take on our walks.
When I returned home, I and DH ran out in a panic
I knew what he must have done( tried to follow me ) so I retraced the path of my walk
Sure enough he was walking down the route - he was distracted by the swing on a house and had climbed into it
I shouted at him in fury and he walked back with me tears running down his eyes
Later that night after he had undergone the consequences ( no screen time and no candy ) - I told him at bedtime about how scared I had been and does he know what could happen
He dutifully said "
Car will crush . a monster will take"
I told him "
and mama will be very sad and keep crying"
R put his sweet arms around my neck and said "
R no go to the road.. mama no sad"
With a child like this how could I be?