First Grade
Has started .

I simply cannot believe that he is a first grader?
He is in the mainstream class right now.
In the past I have always resisted mainstreaming, because I don't know if a large classroom is where learning really happens for auties.
BUT - his teacher seems really nice and I am keeping my fingers tightly crossed
And R likes mainstream class - so that is where he is going
We are to have an IEP again in September and we are praying that they do not remove his shared aide.
The Weekend
We swim a lot and sit out a lot
I try some Floortime but there are no long flows of interaction.
The little people ride the bus
Then another person rides the boat
Then R moves to the watering can
Then he makes me touch the tomato leaves so he can smell my fingers
Disconnected islands of ideas
( later when I think about why this could be, I realise that I have made the fundamental mistake of Floortime - which is to not start with "Observation". Instead I have done lazy floortime - just used toys and props. This is why R moves from one thing to another - more on this in another post . What I should have done is observed his interest.. what he was doing and started from there )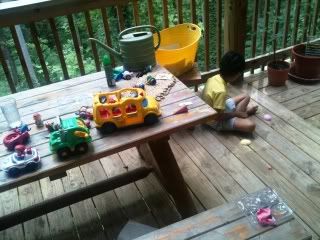 We swim a LOT
The water is ICY cold - the swimming pool water is supplied by an underground spring in our cabin complex and I certainly think that this spring originates in the icy Tundra
The high point of the weekend is finding this turtle.
DH is very keen on having the turtle as a pet .
I am also converted to his POV when I see the underside which is so clean and smooth . Most civilized of the turtle
I somehow suspected that the turtle would be like the stones one uncovers in the garden sometime- smooth and clean on the surface and whose underbelly is full of creepy crawly things.
DH carries the turtle to our cabin ( its his hairy arm in the picture and not mine.. I assure you mine is quite smooth and hairless - even though I don't come by the hairlessness entirely naturally )
I am hoping that the turtle will like our yard and we will encounter him multiple times
Monday
We go to the school's PTO meeting
Its interesting to be there. I imagine that the people sitting there are sitting ensconced in the carefree-ness of having neuro-typical children.
I am keeping my fingers crossed that the school year goes well
As we walk towards the school cafeteria, I introduce myself to one of the moms who is looking unsure.
She confides that she is actually not the mom but the grandmom who has had to take custody of her grandson - owing to her daughter in law's issues.
And also that she is worried that her grandson has ADHD and she does not know how he will pay any attention in class
I don't know what made her show her vulnerable side ( for Westerners almost never do - they usually put up a brave front, Easterners usually talk about their problems - secretly they think this ward off the evil eye - such is the subtext of culture )
But I am grateful to her for it - for I had been in my Autie-mum self-pity thinking that
everyone
else's child has it so easy
I tell her that my son has Autism and she tells me that she has heard that they are very brainy
What a sweet woman!
When we come back home, Miss Gypsi R's therapist leaves.
She recently took R to McDonalds and then wrote a book on it. Pictures and descriptions of what they did there
The trip has been a grand success and R shouts out her name when we pass Mc Donalds
I plead with R to come out and play with me
He says a firm no to all my entreaties
So I wear my running shoes to get on the treadmill and immediately R pleads for me to go outside
He hates it when I form a separate world with the treadmill and my headphones.
We jump on the treadmill all evening and R unfortunately learns about static( or stack-it as he calls it )
He keeps trying to hold my hand and gets an electric charge -
He is full of self-pity as he has also been stung by a bumble bee - thanks to his current favorite song taught to him by his beloved Miss Sadie ( I am bringing home a baby bumble bee...wont my mama be so proud of me )
Unfortunately the song ends in the child being stung by the bee and the song's prediction, has turned into a reality for him
twice
Miss Sadie apologizes profusely but I tell her its a practical lesson that is priceless !
( even though the sight of his swollen finger and his piteous bleats of "all done bumblebee hurts" and "finger hurts" and "its sticky " are a stab at my heart )
Besides she just loves him and can do no wrong as far as we are concerned.
Like me, she calls R her Prozac
Tuesday
Welcome Books is a series that R is addicted to thanks to Miss Gypsi
When I tell him that we are going to the library he is so excited that he literally cannot sit down !!!!
This is a geek boy for sure
At the library - I make him apologize to the librarian for the book he lost as he puts it "Gone to Hilton Garden Inn". ( I have had to replace this book and I want R to be more careful )
When it comes time to check out - I see he has chosen about 40 books that he must have.
I quickly give him a reality check
And tell him he can have 5 books - which he quickly bargains up to 6 .. how thrilling this is to me I cannot tell you . He now baragins all the time .

When I persuade him for bathtime telling him that it will just take two minutes .. he shrewdly asks for one minute.
Wednesday
no sooner than I come home R insists we go out and play in the trampoline where unfortunately we have a learning opportunity to understand what static means once again !!
R keeps pleading with me "no static" and tries to hold my hand and gets the jolt of electricity.
Finally I leave him in it alone for a bit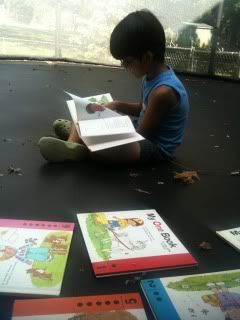 In the mail my sister has send a Rakhi for R . Rakhi is a festival in India - where sisters tie a thread on their brother's wrist and remind them that they must protect their sisters . This tradition started in Rajasthan - when the Rajputs would go to war and the sisters would remind them of their familial responsibility so they would not be too reckless.
I read the note my BIL has written and I am a little teary as my BIL's note says that R can always look for advice and protection and anything he needs from his elder sister in India.
( in this way he has
reversed
the tradition ) .
I think my family understands autism more now.
They have always completely accepted and adored R . But I think they also always thought that he would sort of outgrow autism - if not in exactly that way - for they don't really think of autism and R - but just him ( which really in many ways is the approach DH and I have )
My sister would tell me not to worry "
just becasue he makes humming sounds
"
Somehow while I have always tried to explain to them all the challenges he also has -
I find I also secretly like they dont take his challenges seriously .
Their implicit belief that an intelligent loving child like R will always find his way ( which BTW I do believe ) is something that I like
Thursday
I come home for lunch
DH and I are on the 17 day diet .
We find we have each become enormously corpulent over the summer( this is in no small part due to all our food rituals - Icecream after dinner , cupcakes, baileys etc ) and have to each lose 12 pounds immediately or we shall immediately explode
One of our friends has advised us on this diet and as she is a person who gives amazing great advice
always
( on varied subjects such as - the little plates can go on the top rack of a dishwasher, you should keep a little plastic bag on the kitchen counter while cooking so you dont have to keep going back and forth to the big dustbin etc ) we both have gone on it
Its a LOT of fun to diet with my DH - in fact one of the things that makes it great to be married to him is that he is a guy that is fun to do things with.
So these days if I have time to come home for lunch I do , and DH makes these amazing omelettes with sundried tomatoes and serrano peppers and turkey meat
This is a great diet, guys and we have pulled ourselves back from the edge of disaster
And we are finding that we enjoy eating lunch and chatting at home quite a bit. This is now our new date lunch
My friend in India tells me that she found a book by Arun Shourie - a famous journalist in India. The cover caught my friends' eye as the woman looks a lot like me
The book is his and his wife's story - raising a child with Cerebral Palsy.
He examines the platitudes that people give parents of kiddos with special needs kids example
"he ( child with special needs) is suffering now because of all the bad things he did in his past life " .
( this one always incenses me )
His book is a no doubt academic appraisal of the explanation of suffering in various religions, but the excerpts of his feelings about his son has me in tears. There is such a special bond between parents of children with special needs.
Miss Gypsi is doing R's homework with him - he has to fill out a chart of "all about me"
Its a really clever bit of homework - I thank God that R can express ( some) thoughts now .
I love knowing little things about him like his favorite color now is blue.
There are people who believe children are people to be moulded .. but I often think of raising R like a process of discovering him.
In the "other things about me " section he has written a bit about me.
His thoughts are simple like his little heart
"
I love mama ..sometimes she goes to the airport"
There are so many things I wish I was better at as a mother
But in R's eyes there is only this one thing that he faults me for.- ( even though he deals with my business trips with fortitude and has a great time with DH )
That sometimes I go away
Tell me,was there ever a more darling child ?