My dear readers I am reconstructing the past 4 weeks with pictures, before they are gone from my mind
How is it August already ?
Just two more weeks till school starts
I always dread the start of school – as R does not seem to really enjoy school much anymore :-(
DH pointed out to me that 1) most kids don't enjoy school 2) as long as R is not being bullied its fine 3) he needs to do things that he does not enjoy
While all this is true, I still want him to be happy and enjoy his day
This child has worked so hard since he was only 26 months…a mere baby
Often these days, the days of being a baby are getting past and I want to hold on to some carefree bits for him
The other day, when we returned from the cabin, he really wanted to go to buy Coke and Sprite ( which is his current obsession ) – we went to Weigel's and bought the big bottles
( just so you know, he does not want to drink these beverages, just look at them and play with them )
I watched R stim off them and thought of turning it into a Floortime game
And then I stopped myself
Let it be, K I told myself
I took joy in his simple pleasure in these bottles
I remember once telling my MIL, whether she would consider a ketogenic diet for my SIL who has epilepsy
"No I wont", said my MIL firmly , "
Nidhi loves enjoys carbs and I am not going to ask her to cut those out"
At that time I wondered why my MIL would not do everything she could to help her child .
But now I do
OUTSIDE TIME
R is very very big on being outside these days.
Unfortunately it is horribly horribly hot
One day I am so grumpy as work has been terrible and when I get home , the air-conditioning has flooded the garage ( and leaked into the basement )
This is already my last nerve as a couple of weeks ago the washing machine flooded the basement
I am so overwrought and as soon as sit down - R is dragging my hand to go out - AND its 97 degrees
I want to yell - can I have 30 minutes please
But then I suddenly think that my autistic child is asking me to come play with him
And I re frame the situation - as its an invitation - an absolute privilege
I go out side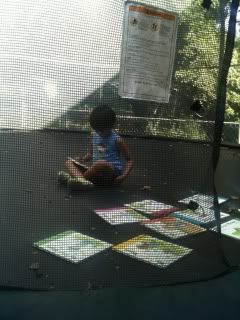 R collects all the objects of his desire and takes them into the trampoline - DH has purchased the number book series and he is crazy about them
We really have a great time and I forget about how hot it is
( i remember when I was a small child - how I never used to feel hot, ever - though Delhi - where we lived was hot as the Hades and there was no air conditioning. And my school had a tin roof )
Another thing I am noticing is an improvement in Executive Functioning. Many Auties have a problem with Planning and coordination - but with R when he is interested We are noticing some improvement in this.
LANGUAGE and READING COMPREHENSION
We read lots of books- he tries to simplify the books with themes
He will look at the pictures of the polar bear for instance and will say "Polar Bears" Then he will add "no seals".
This is fine and clever as he is able to say 2, 3 things about everything in this way - by describing what it is and then what its not
I know he has a lot to say and lot of desire to say it - but he does not know HOW
No matter ! . This too will come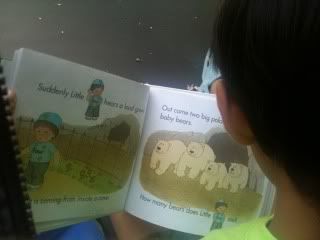 This has been the summer of reading comprehension and while its a long journey we are definitely making headway
What is equally impt I think is that he LOVES books - I am so glad for books have always been my haven
One night when I ask him to pick what books he would like to read, he chooses this great pile of 27 books !!!
I often wonder how much he understands for he often categorizes books based on his own agenda - rather than on the story
So for instance , he will point to a picture of a furry lynx and say - "snow" and then at the Great Bengal Tiger and says "no snow "
But when I am reading the story of the "The Invisible Moose" he cries as though his heart will break when the beautiful moose is stolen .
And when she is found again, he jumps up and down on his bed happily!
I think of the scene in Strange Son when the dad finally realises how much his son comprehends while seeming uncomprehending and asks him
"Dov what were you doing all these years "
Dov types back "Listening"
It gives me the goose-bumps when I read this and I often think of R with apraxia and how important it is to presume intellect
Trip to Atlanta
I have a work trip and DH and R come along as the Great Coke museum is there as this beverage is R's current obsession
We stay in a hotel in Centennial Park - can you see the CNN building in the background
( probably the high point of R's Trip )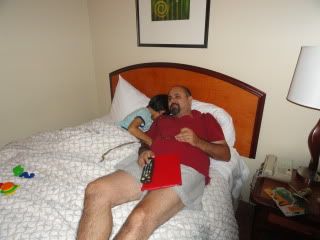 R snuggles with a rubber snake and DH and I skeeve all my friends out by uploading a picture of him kissing the - most realistic snake that it is !!
Though R has been obsessed with Coke for a while - when he goes to the Coke museum he is done in 10 minutes .
( he talks about it for days later though )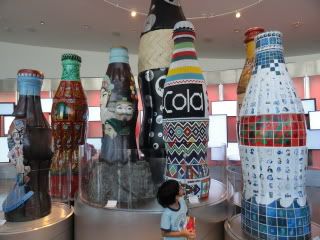 I hear him talking to his therapist the other day -Papa takes me to Statue Of Liberty and Coke Museum
while Mama take him to "Starbucks"-
Way to make me sound weak !!!
Friends
We spend a lot of time with friends in July and August
We have a bunch of friends that spend the weekend with us at the cabin
I simply love the way R is completely accepted by all my close friends .
R is so comfortable with these wonderful little girls . These are the first few children he actually seeks out
They take their various screens go into the bedroom and close the door behind them
So giddy are the three of them ( though R really is not interacting per se ) that when I and my friend go to make up a air-bed for the girls - the kids keep jumping on the bed
As soon as we get one child off , another leaps on the bed
My friend and I start to laugh and laugh
So we give up and come back later when they all have calmed down somewhat !
In Atlanta we visit another old friend's. home- she was my roomate in grad school and we have stayed close ever since to her and her dogs
Their house is gorgeous and has a swimming pool and a river close by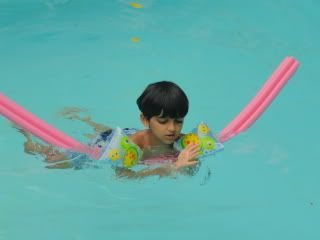 And R - water child as he is has a lovely time in this gorgeous place
The beginning of school
Is always incredibly stressful for both me and R.
But that time is here now and we must make the most of it
My friends always compliment me on how much I live in the moment and appreciate life
I seem to be a great optimist
But sometimes I wonder if I am a pessimist in disguise
For the person who really treasures their present , is also the person who is aware of how fragile it is
Each day as I leave for work, I watch R and DH sleeping, turned to each other - like a big C and a little c. I listen to their breathing, thankful to God - that my precious ones are with me
Each time I hear my family's voice on the phone or read their words over an email - I think - thank you god they are still with me .( for my parents growing older,the little time I get with my sister breaks my heart )
Though I am so enjoying R's childhood,
Always behind this great joy, is the feeling that its slipping away
That soon I will no longer be able to be the source of joy that I am now
That one day, he will see himself through eyes not as adoring as mine
I think, in counting the weekly hours of therapy and measuring progress, there is a very real danger of missing these precious childhood years
Dear reader if you have stayed with me this long - thank you
I started this blog as a sort of stern voice and record for my floortime sessions
It has long transcended that purpose
It has become way to connect with myself and be the keeper of my memories
But its also become a way to connect with other mothers and fathers like you
When I write these posts, I think of the little boy of Tagore's poem "Paper Boats.
In this poem, a little boy, floats paper boats, after writing his name on them -hoping someone will find them
Paper Boats by Tagore
Day by day I float my paper boats one by one down the running stream.
In big black letters I write my name on them and the name of the village where I live.
I hope that someone in some strange land will find them and know who I am.
When night comes, I bury my face in my arms and dream that my paper boats float on and on under the midnight stars.
The fairies of sleep are sailing in them, and the lading is their baskets full of dream